Fine Art Fashion Photography
A Fine art photographer's goal is to create stunning images that represent an interpretation of reality or tell a story. Portrait photographers don't simply capture a moment in time.
You are a goddess. You are radiant and gorgeous and bringing a life into this world.
This special time is a miracle worth capturing and cherishing for years to come. Whether you savor every moment or count the days, capturing your beautiful pregnant body is an experience not to be missed. Each maternity session includes up to one hour of shoot time in the location of your choice. Your session is best scheduled between 28 – 33 week of your pregnancy, though timing is ultimately determined by you! During your session you can expect individual portraits, poses with your partner and additional shots with immediate family (children are always welcome!).
Searching for the perfect Maternity outfit for the session?
Mii Estilo, founded by top designer Ingrid Roessen, is known for luxurious maternity gowns for photoshoots, fine art dresses for portraiture and detailed children's fashion for photoshoots. Each piece is handmade in The Netherlands. Mii Estilo's designs are featured internationally including at the trend-setting New York Fashion Week. The brand has been named the Gucci or Prada of photography. From long maternity dresses with ruffles to tight fitting maternity dresses with intricate lace, Mii Estilo has a wide array of designs that will allow you to achieve any type of look for your maternity photoshoot or any other special occasion!
The impact of Fine Art Photography on the fashion industry has more photographers experimenting with creative techniques leading to portraits that appeal to more people than ever. The Portraits created through fine art photography show greater freedom in expressing ideas and concepts making fashion more relatable and engaging.
Maternity Portraiture for example has become more elegant and creative with fashion. Including elegant fashion in maternity portraits has given women an outlet for self-expression while also allowing them to contribute something meaningful to the special moment in their life.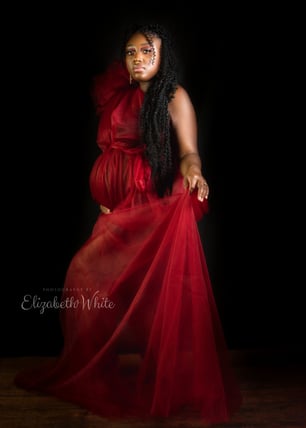 Creativity & Elegance in Fashion
If you go through or make a purchase via my affiliate link, you may receive a discount or bonus and I may receive a commission or reward from Mii Estilo at no additional cost to you.